It can be slightly overwhelming when you initially become plant-based. You might not be sure what you need or what will help you on your journey. So I decided to create a list of things that helped me in the beginning and made life just a little bit easier.
A Good Recipe Book
Initially, when you become plant-based it can be tricky to create your own recipes and recreate plant-based versions of the foods you love. The ingredients can be different or may need to be cooked in a different way. To make the transition a little simpler, I highly recommend investing in a good recipe book. While you can find a lot of plant-based recipes online, I find that they never quite turn out the way I want them to. Having good recipes meant I could make tasty meals easily and I could make decent versions of my favourite foods. I also recommend investing in recipes from people who eat fully plant-based and have been for a long time as they generally really know what they are talking about. My favourites are Eat Smart by Niomi Smart and The Happy Health Plan and Vegan Cooking for Everyone by The Happy Pear and the Deliciously Ella app.
Some B12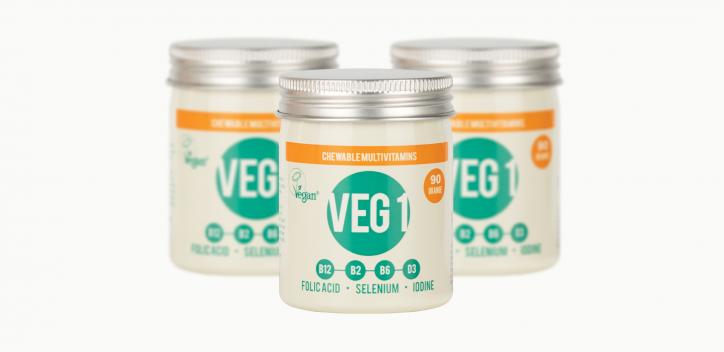 While you can get most nutrients from plant-based foods, one vitamin you cannot get is B12. Humans get B12 from eating meat and dairy. Therefore a plant-based diet will not provide it for you. It's very important that you take a B12 supplement as the symptoms of low B12 levels are not fun. I take the Veg 1 supplement. It has all of the B12 you need as well as your recommended daily intake of vitamin D and a whole host of other vitamins and minerals to keep you healthy and strong. I get mine from the vegan society (https://www.vegansociety.com/shop/veg-1-supplements).
Lentil/Chickpea Pasta
Lentil and Chickpea pastas have been a life saver for me since becoming Plant-based. They are high in fibre and it's a really simple way to get some protein in without having to add grains or pulses to your sauce. One of the simplest dinners I make is lentil or chickpea pasta with pesto. It takes 10 minutes to cook and has over 20g of protein. Chickpea and lentil pastas are available in most supermarkets these days including Tesco, Supervalu, Lidl and Aldi.
Treats
We all have days where we need something nice whether it be crisps, ice-cream, chocolate, baked goods, etc. so its good to have options that you know are plant-based. Thankfully these days most supermarkets stock plant-based alternatives. However, there is also a fair amount of regular treats that just happen to be dairy and egg free. It's worth doing your research and finding the things you like. Being plant-based doesn't mean that you can't have treats like everyone else. It's just a case of finding ones that fit the lifestyle you want to live. Some of my favourite treats are Nobó Chocolate, ROAR ice-cream and Hippeas.
Social Media
For me, social media has been such an amazing tool. Its great for finding inspiration, getting recipes and following like-minded people. I even went as far as to make an instagram account completely dedicated to this. Platforms like TikTok and Pinterest are also great resources for snack and treat ideas. My only piece of advice is to make sure you only take information from reputable sources who actually know what they are talking about. Some of my favourite people to follow are Dr Megan Rossi, The happy pear, Niomi Smart and veganlife.ie.
This is a quick summary of the things that I found useful when becoming plant-based. However, we are so lucky these days to have so many options and resources available to us. So my advice is to explore, try new things and find what works for you!
Eimear x